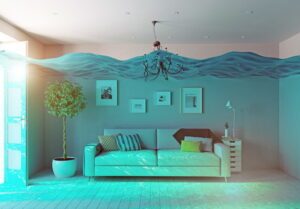 If you encounter water damage in your house, such as from faulty plumbing, a disconnected washer hose, or water coming in through the roof, you'll probably feel panicked. This is understandable, but we want you to know that there is help. You don't have to go through this alone, and eventually you'll be able to solve the problem.
We offer extensive service for water damage in Orange County, CA. When you need us, we'll be right there on-site to assess the damage and work on solutions. We'll work with your insurance agent through the process.
Right now, we want to give you advice about what to do right after your house has sustained water damage.
Shut off the source of the flooding if possible
In most cases of flooding in Orange County, the source isn't from extreme weather conditions but from indoor plumbing. You need to stop the continued flow of water into your house if it's coming from your plumbing. Go to the shut-off valve for the home, which should be located right next to the water meter, and turn it.
Turn off the power to the home and unplug devices
Now take care of your family's safety. Water damage can create extreme electrical shock hazards, so immediately shut off the power to your home at the electrical panel and unplug all devices from outlets.
Call your insurance company
This is the point when you should take a deep breath … this is why you have insurance in the first place. Most home insurance covers flooding damage due to plumbing problems. Contact your insurance agent to explain the situation as well as any repairs you think you'll do on your own. Following the direction of your insurance company, as they may tell you to wait for an adjuster to come do the inspection of the house before making any repairs.
Call a plumber if necessary
If the plumbing was due to a broken plumbing fixture, get on the phone with a reputable local plumbing contractor. Look for one that offers emergency service so you can get the repairs done as soon as possible so you can restore water service to the house.
Call Jarvis Restoration
Now you're at the stage where we enter the picture. We're the type of water damage restoration experts you want on a job like this: family-owned, in business since 1970, on-call 24 hours a day. We work with all insurance companies and will facilitate the process so you won't feel overwhelmed. We'll guide you through filing your claim and help you secure the full benefits to which you are entitled. We'll directly bill your insurance company with itemized invoices and damage documentation.
Take photos
Before the clean-up starts, take photos of the flooding damage. You will need these images for the insurance claim as well as to make restoration as easy as possible.
Remove standing water
Now you can start the cleaning. You may have to use buckets to bail out, or you can rent a wet-dry vac or a sump pump to remove as much water as you can. For smaller problems, you may be able to use towels.
Once you've got these basic steps started, we'll be there to help you out with the rest of the process of remediating the water damage.
For comprehensive home restoration services you can rely on, contact Jarvis Restoration today!