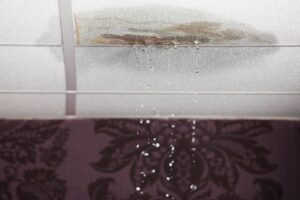 We often talk about dealing with the damage that can occur to homes due to large-scale catastrophes, such as wildfires or massive flooding. But damage from water, fire, and other elements doesn't always emerge after big disasters. They can be more insidious, occurring when you don't know to look for them.
One of the more common types of water damage that homes suffer is from leaky roofs. Homeowners often don't pay much attention to their roofs, allowing them to sustain damage over time and age to the point where they don't provide the waterproofing necessary to protect the house. Since we recently went through massive rainstorms in Southern California, water damage coming through a leaky roof is a major worry.
We want to look at ways you can tell you've got water damage to your ceiling. Then you can call us for an inspection to see if we need to help with restoration for water damage in Orange County, CA.