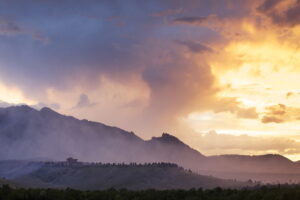 The fire season in Southern California used to last from July through October. Unfortunately, the season for dangerous wildfires has continued to lengthen in both directions, and some experts consider California's fire season to be all year. It's never a good time to let down your guard when it comes to protecting your home and family from the danger of wildfires. Always have a plan in place in case you need to evacuate and have a "go bag" prepared with all you'll need when you do need to evacuate. (CalFire has this checklist for an emergency supply kit.)
Although your family's safety comes first, you can also help make preparations to protect your house from wildfires. We'll look at some below.
Create a fire buffer (Defensible Space)
If possible, you want to have a hundred-foot barrier between your home and flammable vegetation. This not only makes it more difficult for fires to leap to your house, but it also provides what is known as a Defensible Space where firefighters can safely move and take up positions to slow down and stop the fire. Also, make sure that all combustible materials are located at least 30 feet away from the house.
Clear away flammable materials from the house exterior
Clean your home's gutters, windows, deck, and roof of any dead leaves or other debris. Mow your lawn to trim the grass down to a maximum height of four inches, which will also help with creating a defensible space.
Reinforce your home with fire-resistant materials
This includes the windows, decks, walls, and roof. The roof is the most vulnerable part of your house, so if you have a wood shingle roof house, we recommend you have it re-roofed with metal, clay, or tiles. You can reinforce other parts of your home with fire retardant and ember-resistant building materials. Here are more tips from CalFire for "hardening" your home against a fire.
Check up on your insurance and make any adjustments
Insurance is a vital part of protecting yourself financially in case of damage to your house due to wildfires. Make sure that you have current homeowners insurance and check your policy so you know what it covers. Update the policy if you've made any home improvements. To help with recovery, create a full inventory of your house, record it with photos or videos, and note expensive items.
If your home does suffer from fire damage…
Even the best preparations can't stop all fire damage. If the worst occurs to you, you can always call Jarvis Restoration to help with your fire damage restoration in Orange County. We have IICRC-certified technicians and we're available 24 hours a day, 7 days a week for emergency fire restoration services. We work with all insurance companies and provide out-of-pocket pricing and financing options.
Once you've secured your property after a fire and your family has found safe temporary housing, reach out to us so we can start the process with a fire damage inspection and assessment. We'll handle both fire and smoke damage restoration.
For comprehensive home restoration services you can rely on, contact Jarvis Restoration today!