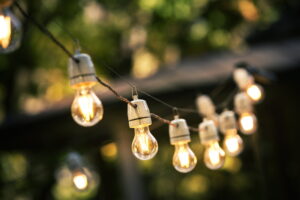 In our last post, we discussed general ways you can prevent house fires. The next two weeks are one of the prime seasons for accidental house fires starting—winter holidays, even in Southern California, offer too many opportunities for electrical hazards and open flames to ignite into the least cozy blaze you can ever experience! According to the U.S. Fire Administration, the top three days for home candle fires are Christmas Eve, New Year's Eve, and New Year's Day.
If you follow our basic safety tips for the holidays, you can relax and enjoy the festive end-of-the-year celebrations without having to worry about calling us for help with fire damage in Orange County, CA.
Christmas Tree
If you have a real tree in your house, make sure you water it every day so that it won't turn dry early—those dry needles will go up in flames in a hurry! Exercise caution with strings of lights when you decorate the tree. Although the lights themselves won't pose much danger, if more than three are plugged into each other, they risk causing an overload that can create a fire. Inspect each of the strings of light to see if the wires are frayed or worn down; throw away any of these light strings. Finally, unplug the tree each night before you go to bed.
Candles and Menorahs
Actual lighted candles can bring a wonderful festive atmosphere to your home, but the newer electric candles can duplicate the flickering light appearance just as well. You can also purchase electric menorahs for Hanukkah celebrations. If you do use actual candles, make sure all flammable materials and decorations are at least three feet away. Place all candles and menorahs on non-flammable surfaces that can catch falling wax. Never leave any open flame unattended.
Cooking
Cooking and baking may be a major part of your holiday fun—just make sure you know how to keep your kitchen activities safe. Always stay in the kitchen when you're frying on the stovetop, and always keep a lid near to the pan so if a fire starts you can immediately put the lid down to snuff out the flames. Make sure you know where the fire extinguisher is and how to use it. See that anything flammable (baking mitts, decorations, towels, curtains, food packaging) is kept away from the stovetop.
Fireworks
Fireworks are often part of New Year's Eve celebrations, and you can legally purchase fireworks in several parts of Orange County. Our best advice for using fireworks at home is … don't. We can provide some advice to make use of fireworks safer for you or your family, but we really have to stress that you should always leave handling fireworks to the professionals.
Miscellaneous
We recommend you check all your home's smoke detectors to ensure they have power and are working properly. Choose decorations that are flame-retardant or flame-resistant. Do not use lights designed only for outdoor use indoors, and vice versa. Hang lights using clips, not nails. Make sure all children in the house know to stay away from lit candles and from cooking in the kitchen.
For comprehensive home restoration services in Orange County you can rely on, contact Jarvis Restoration today!