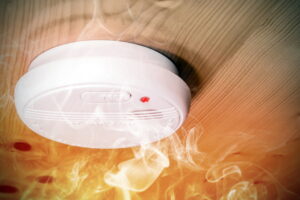 Fire damage is sadly one of the most common threats to homes in Southern California. Along with the sadness and stress that comes with a home suffering from something so devastating comes the anxiety of having to deal with insurance companies when filing a claim for fire damage.
We have handled fire damage restoration in Orange County, CA for more than fifty years. Our work goes beyond restoring homes: we are experts in working with insurance companies to help our clients receive the most money on their claims, and we work with all insurance providers.
Below are some important tips for filing an insurance claim for fire damage that will help you get the most money from your insurance company and avoid costly mistakes.
#1. Photograph and record everything
You need to prove the extent of the fire damage to your house. Once the fire company has cleared that it's safe for you to enter the property, take photos of all the damage. You can also make a video recording as you walk through the house and survey the damage. Photograph damaged personal possessions as well.
#2. Look for hidden damage
Not all the damage to your house will be on the surface. There can be extensive damage behind walls and in the floors. This is hard to spot, so you may wish to hire a professional inspector to document other damage to report to the insurance company.
#3. Ask for an advance
When you contact your insurance provider regarding the fire, ask them for an advance to cover immediate expenses that come after fire damage, such as clean-up, immediate repairs, boarding up and other security measures, and temporary housing costs.
#4. Hire outside experts
You have a right as a policyholder to bring in outside experts during the claims process. These experts can include architects, engineers, public adjusters, and, yes, restoration contractors. This is part of our job: we understand the costs and labor involved in fire damage restoration and can help with maximizing what you receive from your claim. We will also take over many of the details and paperwork in the process so you can concentrate on the more important job of taking care of your family and putting your life back in order.
#5. Watch out for fraud
Unfortunately, there are many disreputable contractors, such as construction companies and roofers, who thrive off a type of "ambulance chasing" when it comes to home damage. You may receive calls from contractors offering their services—and many of them are unlicensed. Be cautious of any of these contractors and make sure anyone you work with is certified.
#6. Budget based on payment timing
Make sure that you have full information from your insurance company regarding when they will make payments to you, starting with money from the advance. This will help you know what funds you need to have available for necessary work and emergencies until the insurance company pays you.
For comprehensive home restoration services you can rely on, contact Jarvis Restoration today!