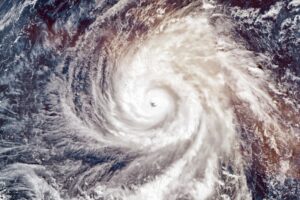 It isn't often that California suffers the brunt of a tropical storm, but our recent encounter with Tropical Storm Hilary—which the governor declared a state emergency—is a blunt reminder that we're also vulnerable to major weather events in SoCal. It's not just something that happens in Florida.
This is one of the reasons that we handle restoration for water damage in Orange County, CA. People are often so focused on worries about damage from wildfires that they forget about the threat of storm damage and aren't prepared for it or know what to do about it afterwards.
We hope that your home didn't sustain any damage from the recent tropical storm. We'd also like to help you to prepare for the next time this occurs. We're going to share with you important storm preparation information. Here are several steps to take to make sure you're ready for major storm activity in the future.
1. Sign up for alerts
You can sign up to receive alerts from county officials through CalAlerts, which will send vital information directly to your wireless devices. This is useful not only for storms but for earthquakes and wildfires.
2. Keep connected in other ways
Information is one of your best defenses during a large-scale emergency. In California, you can dial 3-1-1 for emergency information and to ask questions. (Only use 9-1-1 for a critical, immediate emergency.) Pay attention to any alerts you receive and follow instructions.
3. Prepare your home for water and high winds
Before the storm weather arrives, remove all dead trees and overhanging branches from near your house. Remove any loose roofing materials (such as damaged shingles), and bring indoors all unsecured items on patios and balconies. Shutter the windows and brace external doors.
4. Avoid all unnecessary travel
If at all possible, don't travel during the peak of the storm period. If you absolutely must drive anywhere, you can download the QuickMap application, which provides up-to-the-minute information concerning what roads are open, road conditions, etc. Do not attempt to drive through flood waters: it only takes one foot of moving water to sweep away a vehicle!
5. Be ready for power outages
Have a supply of batteries or alternate power sources that can meet necessities in case of an extended power outage. Make a catalog of these necessary appliances and devices so you know how much extra power you need. Have flashlights ready for each member of your household and keep items charged and ready to go.
6. Listen to local authorities
Always follow instructions from local authorities, including evacuation orders, road closures, etc.
After the Storm…
If your house sustains damage from a storm, we are here to help. We have a blog post outlining what you can do immediately after serious storm damage. Once you and your family are safe, you can call our team. We can help you with assessing and recording the damage done, then assist you when dealing with the insurance company and filing your claim. We'll help to ease your mind during this stressful time.
For comprehensive home restoration services you can rely on, contact Jarvis Restoration today!