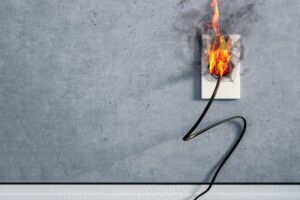 Fire damage is one of the more common types of damage that affects homes in Southern California. But people are still rarely prepared for handling the extensive process of recovering in the wake of a house fire. This is one of the reasons that quite a few misconceptions about fire damage restoration have spread around, and these misunderstandings can often result in wasted time, unpaid insurance claims, and unjustified concerns.
Today, we'd like to bring some clarity to the fire damage restoration process by looking over the top four misconceptions you may have about fire damage restoration.
1 – You can do the job yourself
We're often surprised how many people think that they can make restoration after a fire into a DIY project. Fire damage to a home is extensive and looks exhausting to take on, but homeowners still think they may be able to save money by tackling the work themselves. This simply isn't possible. Fire damage requires extremely specialized skills and tools. The job also comes with safety and health risks. Finally, if you're planning on filing an insurance claim for fire damage, insurance companies will only accept documentation from experienced professionals.
2 – The job will go fast
We wish this were true, but as we just mentioned, fire damage is a specialized job. It goes deeper than a simple clean-up or a few replacements, and any restoration requires extensive planning. Depending on the damage, the process might take weeks or months.
3 – The insurance company will take care of it all
Insurance companies have an important role in the process, but much of this responsibility will fall to you—and you'll also need help in dealing with the insurance company. Although insurance companies can recommend different restoration contractors to handle the work, it's up to you to hire someone for the assessment and full restoration. This is one of the important parts of the job for our team: helping our customers work with their insurance adjuster to see that they'll get the best payment on their claims.
4 – Anything smoke or fire has touched needs to go
We have good news on this misconception: you don't need to throw out everything that fire or smoke has touched. We used advanced equipment and techniques to clean and restore items that have suffered damage, so we will do our best to see that we restore as much of your property and furnishings as possible. During our initial inspection, we'll be able to give you a better idea of what we can restore.
We understand how stressful fire damage to your home is, and we want to make the restoration process as smooth and stress-free as possible for you. When you need fire damage restoration in Orange County, CA, reach out to us as soon as you notice the damage and we'll help get the process started.
For comprehensive home restoration services you can rely on, contact Jarvis Restoration today!