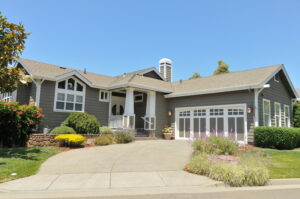 We offer professional home restoration services in Orange County, CA, and we have since 1970—long before most of the homes in the area were even built. With over 30,000 structures restored (and counting!), we're one of the most experienced professional companies you can work with.
And professionalism matters in this business. When your home suffers serious damage from fire, flooding, mold, etc., the only contractors to turn to for assistance are professionals. This isn't an area where you want to cut corners to attempt to save a few dollars. You might think about tackling the job as a DIY project, but in this post we'll explain the essential role that professionals play in home damage restoration and show the benefits they bring.
Expertise
Home damage restoration isn't just a type of construction or remodeling project. Damage restorationists have specialized training and knowledge to deal with a wide range of damage types. Restoring a home after water damage is more complicated than mopping up the water! Our professionals understand all the complexities of the process and will ensure we do every step correctly. Throughout the restoration, our team will use their expertise to spot hidden issues, come up with effective strategies, and find the customized solutions necessary to deliver the best results.
Insurance Claims Assistance
Dealing with the insurance claims process can make people dizzy and stressed—and when dealing with a damaged home, they have enough stress already. Professionals know how to work with insurance companies to help clients with documenting damage, providing accurate estimates, and getting the best compensation on their claim.
Safety and Health Considerations
Restoring a home that's received serious damage from fire or flooding, or which needs extensive mold remediation can be dangerous. Our restorers must deal with bacteria-contaminated areas, toxic fumes, and weak structures. Professionals always put safety first and use the best protective gear and safety protocols. They also watch out for your future safety as well by doing the most thorough job possible.
Rapid Response and Mitigation
Moving fast is essential once a home has sustained damage, and professionals understand the importance of a speedy response. They have the resources and equipment to quickly stop the spread of damage and prevent secondary problems that can arise (such as mold growth due to flooding).
Comprehensive Assessment and Planning
Experts will always provide a thorough assessment of the affected areas to look for visible and hidden damage. This comprehensive evaluation helps them create a detailed plan for the restoration process. Their trained eyes can identify structural weaknesses, water-damaged areas, and potential health hazards. They'll devise a comprehensive and efficient plan that will ensure they don't overlook anything.
Quality Workmanship
This is the biggest reason to always look to professionals for a major job like home damage restoration: they have the skill and training to provide the best work possible. Our team members had the finest technology and tools at their disposal, and they know the best techniques to get any job done in a timely fashion. We keep up with the latest industry standards and practices, and we know the local building code requirements. This attention to detail is something that you'll only find with professionals.
For comprehensive home restoration services you can rely on, contact Jarvis Restoration today!